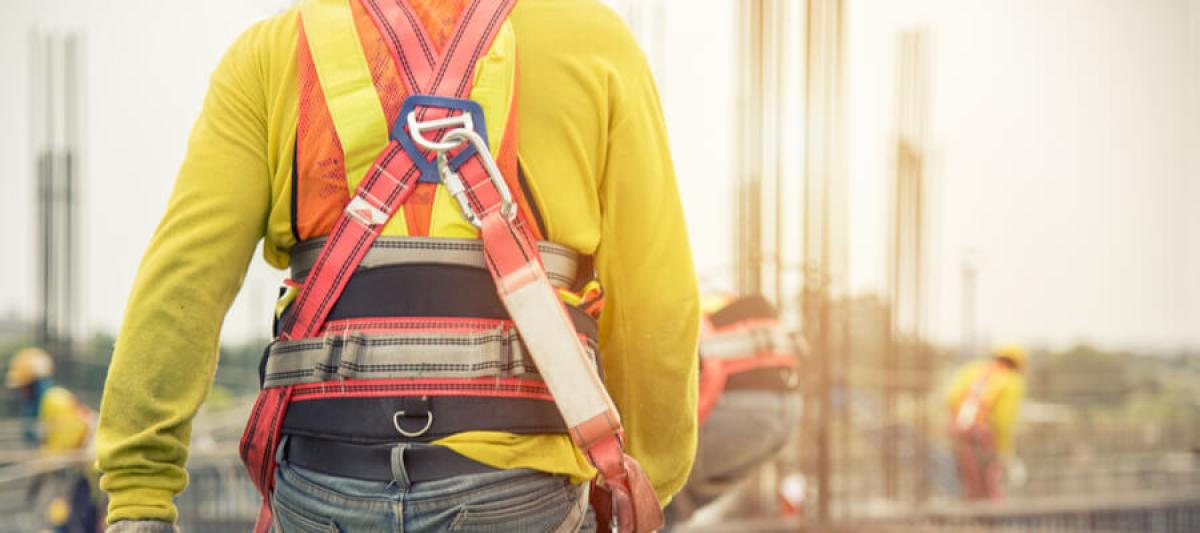 Slips and falls occur every day in the workplace. These types of injuries and their recurrence can be minimized through proper safety knowledge and attitudes. There are various ways to suffer slips and falls while working. You can slip and lose your balance, you can trip over objects left in your walkway, or you can simply fall from an elevated position above the ground.
Slips, Trips, and Falls
Slips, trips, and falls cause extensive workplace injuries, totaling almost $70 billion per year in worker's compensation claims. Staying in compliance with OSHA standards can prevent slips, trips, and falls and save your company money on productivity, legal action, and employee injuries.
Common causes of slips, trips, and falls include:
Floor contamination

Lighting inadequacies

Weather conditions

Stairs

Step stools and ladders

Unprotected edges

Floor mats

Objects obstructing walkways

Floor or surface damage
Slips
Slips can be caused by wet surfaces, spills, or weather hazards like ice or snow. Slips are more likely to occur when you hurry or run, wear the wrong kind of shoes, or don't pay attention to where you're walking. To avoid slips, be on the lookout for foreign substances on the floors. Watch for deposits of water, food, grease, oil, sawdust, soap, or debris. Even small quantities are enough to make you fall. Take the time to clean it up! When entering a building from the outdoors or from debris areas, clean your footwear thoroughly. Snowy and rainy weather requires that you clean off the soles of your shoes. Don't go too fast, walk safely, and avoid changing directions too sharply.
Trips
Trips occur whenever your foot hits an object and you are moving with enough momentum to be thrown off balance. Trash, unused materials, any object left in the aisles or other areas designed for pedestrian traffic invites falls. Extension cords, tools, carts, and other items should be removed or properly barricaded off. Remove any equipment or supplies from walkways, and take action to move items that are a trip hazard. Keep passageways clear of debris. Walk where you're supposed to walk. Shortcuts through machine areas invite accidents. Concentrate on where you are going -- horseplay and inattention leaves you vulnerable to unsafe conditions.
Falls
The worst falls are from elevated positions like working from ladders or on top of equipment or vehicles. They result in serious injuries and death. Learn and practice ladder safety and use three points of contact if you must be at an elevated height. Hold on to handrails when using stairs or ramps. They are there to protect you should a fall occur. If you're carrying a heavy load which hampers your ability to properly ascend or descend stairs, find help! When climbing, use a ladder of proper length that is in good condition. Keep it placed on a firm surface. Do not climb a ladder placed on machinery, crates, stock, or boxes. Keep the ladder's base 1 foot away from the wall for every 4 feet of height. Don't over-reach. Always have control of your balance when working from a ladder. Never climb a ladder with your hands full, and always carry tools in proper carrying devices.
Vehicle Safety
Every year falls from vehicles account for a significant number of workplace transport incidents. Frequently, a fall from a vehicle has been the initiating event for a fatal workplace transport incident whereby the person has fallen from the vehicle and then been run over and killed by the vehicle. Falls from vehicles, even from a relatively low height, can result in serious injuries, yet most falls are easily preventable. The majority of falls from vehicles occur while people are entering or exiting the vehicle, or working at height on the vehicle. Avoid climbing on to trailers and equipment whenever possible, and try to do all work from the ground. Always enter and exit the vehicle in a safe manner. Never jump down from the vehicle cab or climb onto a moving vehicle.
Getting ahead of safety management and being proactive is essential to keep your business operational, safe, and productive. Read on for more information on safety management around this safety hazard.
Safety Management and Stats
Slips, trips, and falls account for up to 15% of workers' compensation claims and can cause almost 1,000 workplace fatalities per year. Employers pay approximately $20,000 per incident, and 1 in 6 lost-time injuries are from slips, trips, and falls.
Those are some pretty convincing stats to encourage anyone to focus on safety management in the workplace. Safety management comes in the form of proactive efforts, awareness, and action.
A few prevention tips from the experts at Northwest Safety and Risk Management that you can do in your office today:
Add safety signs and labels

Contain spills immediately

Improve facility lighting in all areas including pathways and exits

Mark changes in directional movement and flooring

Always put away materials
Let's Talk
Get in touch with safety management professionals at Northwest Safety and Risk Services. The team can work with you to organize classes, training, and follow up for your organization and help you and your employees be safe and sound in the workplace and on the job site. Let's talk today.