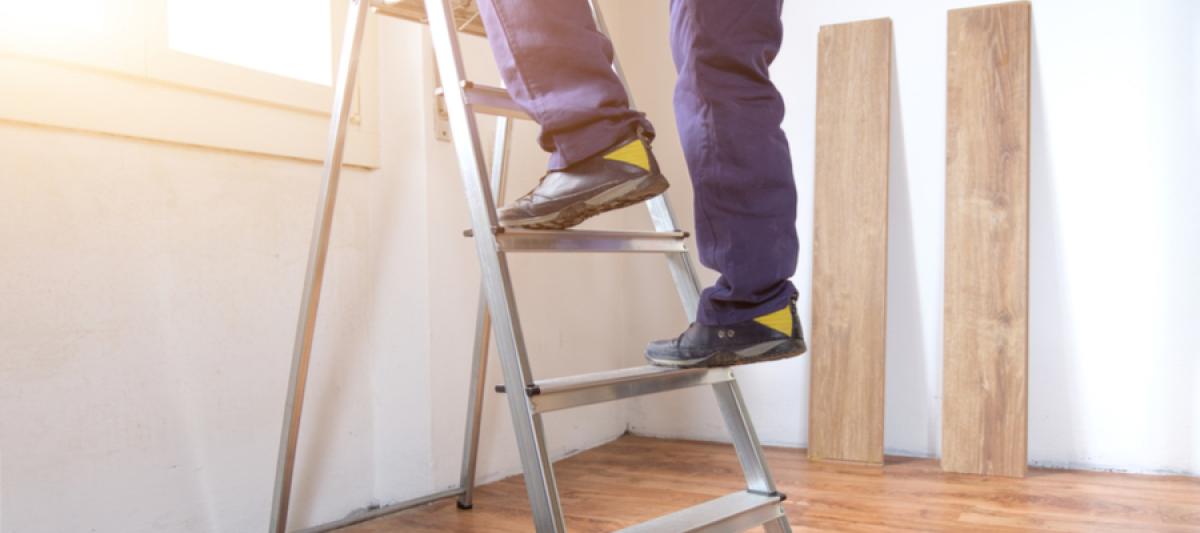 Injuries in the workplace because of ladders are commonplace. About a third of all reported falls are falling from ladders. There are over 10,000 reported ladder-related injuries in the United States annually! Work-related falls from ladders resulted in approximately 360 fatalities and an estimated 151,000 serious injuries each year.
Not all these incidents are due to defective ladders, however, that can certainly be one of the factors. It is important that ladders are inspected regularly.
Ladder Inspection
Look for missing or loose cleats at the bottom.
Look for loose or missing screws, bolts or hardware.
Look for cracked, broken, split, dented, or badly worn rungs, spreaders, or side rails.
Corrosion of metal ladders.
Many of the fall-related injuries result from the improper use or the use of a defective ladder. Step/extension ladders are made to access/egress upper levels, not to be used as work platforms. There are specifically designed ladders for use as work platforms such as platform ladders. These ladders are constructed with a small platform and guardrail.
Safe Ladder Use
Maintain ladders free of oil, grease, and other slipping hazards.
Do not load ladders beyond their maximum intended load or beyond the manufacturer's rated capacity.
Use ladders only for their designed purpose. Ladders should never be used sideways as platforms, runways, or scaffolds.
Do not move, shift, or extend ladders while in use.
Use ladders only on stable and level surfaces unless secured to prevent accidental movement.
Do not use ladders on slippery surfaces unless secured or provided with slip-resistant feet to prevent accidental movement.
Do not use slip-resistant feet as a substitute for exercising care when placing, lashing, or holding a ladder upon slippery surfaces.
Secure ladders placed in areas such as passageways, doorways, or driveways, or where they can be displaced by workplace activities or traffic to prevent accidental movement. If needed, use a barricade to keep traffic or activity away from the ladder.
Keep the area at the top and bottom of the ladder clear of tool cords, tools, material, and garbage.
Use ladders equipped with nonconductive side rails if the worker or the ladder could contact exposed energized electrical equipment.
Face the ladder when moving up or down, and while working on the ladder.
Maintain three points of contact with the ladder when going up or down.
Do not carry objects or loads that could cause loss of balance and falling.
Never lean a step ladder; A-frame ladders are only to be used with both legs open and locked.
Avoid the top two rungs of stepladders and the top three rungs of all ladders
Never try to increase the height of a ladder by standing it on other objects, such as boxes or barrels or by splicing two ladders together.
Only one person on a ladder at a time.
Don't alter the feet or cover them with rags or other items that will inhibit their ability to function as designed and built.
Extension ladders must have both pieces together. They are not two ladders for the price of one when purchased.
Store ladders so that they are not exposed to damage by parts, equipment, or personnel.
Although ladders are part of our everyday life at both work and home, it's important we don't take them for granted. Always inspect and utilize ladders appropriately.
Together we can make work safe. Contact us today!